These English Trim to Fit saddle fitting shims are available in two thicknesses.
ThinLine Plus+ is  1/4″ (6.4mm) thick.
ThinLine is 3/16″ is (4.8mm) thin.
No Expiration Date!
Unlike closed cell foam and wool, ThinLine never compresses or deteriorates. The English saddle shims you buy today will last you a lifetime!
Our Trim to Fit Saddle Fitting shims are SOLD IN PAIRS and offer guidelines.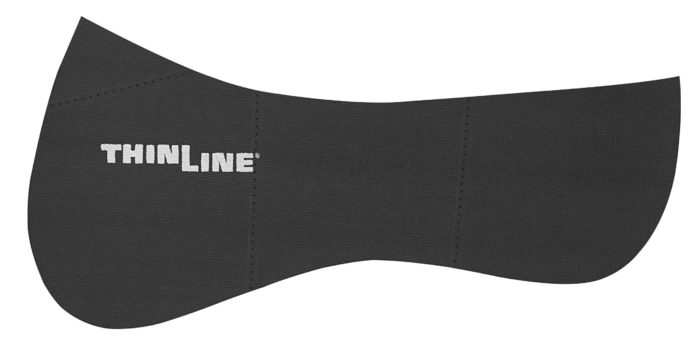 It only takes a simple pair of scissors or box blade to trim to fit.  Shims come with scoring marks as a guide for you to create Front, bridging or rear saddle fit shims.
The trim to fit full shim is the most economical way to always have what you need for every horse.  If you only need to shim in one area, cut them to lay exactly where you need them in the open pocket of a ThinLine pad. The remainder can be used to add additional height by stacking several trimmed pieces on top of each other. As your horse grows and changes you now have several sets of shims for fine-tuning saddle fit.  Or, boost your overall ThinLine protection and comfort by using the full shim. The most cost-effective and versatile way to shim your pad!
Photo shows trimmed to fit shims cut to create all the shims you need.
Carefully designed with the help of Master Saddlers ensures you will never have a pressure point. Our exclusive foam makes saddles fit better, and horses more comfortable all in one easy step.
Inserts stay put without shifting and you may stack them. We do not divide the pocket, allowing you or your saddle fitter to place the inserts precisely where your horse needs it.
If you find you no longer need inserts, just remove them and keep all the great benefits of your ThinLine Pad!
Colors: ThinLinePlus+ (1/4″) shims are available in black only.  ThinLine (3/16″) shims may arrive in black, brown or white. And, Since the saddle shims cannot be seen inside your pad, so the color is not an issue.
Bridging Shims for Swayback – If your saddle is bridging, you are missing contact in the middle of the horse's back and there is too much contact at both the wither and the cantle. When using bridging shims, we recommend you start slowly. Use only one or two at a time. You will discover your horse will begin to lift their top line and develop more muscle with ThinLine. The result of muscle development means it is often possible to remove one or all of the saddle shims.  Good news: you keep your ThinLine pad and horses continue to use their backs correctly.
*The shape of your shims may differ from those pictured. 
Shims only pad not included